Do I need to bring my own paddleboard?
Nope! Portland Paddle provides the boards and everything will already be set up and ready for you when you arrive.
What should I wear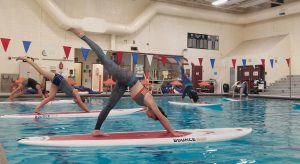 Quick dry clothing works well for this class. I usually wear a pair of quick dry pants, and a quick dry shirt over a sports bra. I usually bring a sleeveless neoprene shirt with me in case I get cold. I have students in anything from bikinis to neoprene shorts and tops. Wear something you feel comfortable practicing in!
I've never done yoga/ been on a paddleboard. Am I going to be OK?
Yes you will! One of the incredible things about SUP Yoga is that you are on your own little floating slice of paradise. If the pace of the class is too fast/slow/hard/easy/etc. just do whatever feels good. "Be free where you are!"
Can I register for just one class?
Usually no, occasionally yes.
Registration is for a 5 class session. If you can't come to all 5 classes you are welcome to try and coordinate with a friend and get them to pay you for the classes you can't attend.
In the rare instance we have at least 8 people sign up but not all 12 spots are filled then we will open up individual class registration. This will be available for the 2nd – 5th classes of the session. You'll have to register by 5pm on the day of and the cost will be $28.