I'm sure you have all come across online yoga classes that are live-streaming by now. In an effort to stay connected and stay healthy teachers and studios everywhere are offering live online yoga classes! For the most part it is pretty easy to get set up, but as with all things novel there will be some hiccups and learning opportunities 😉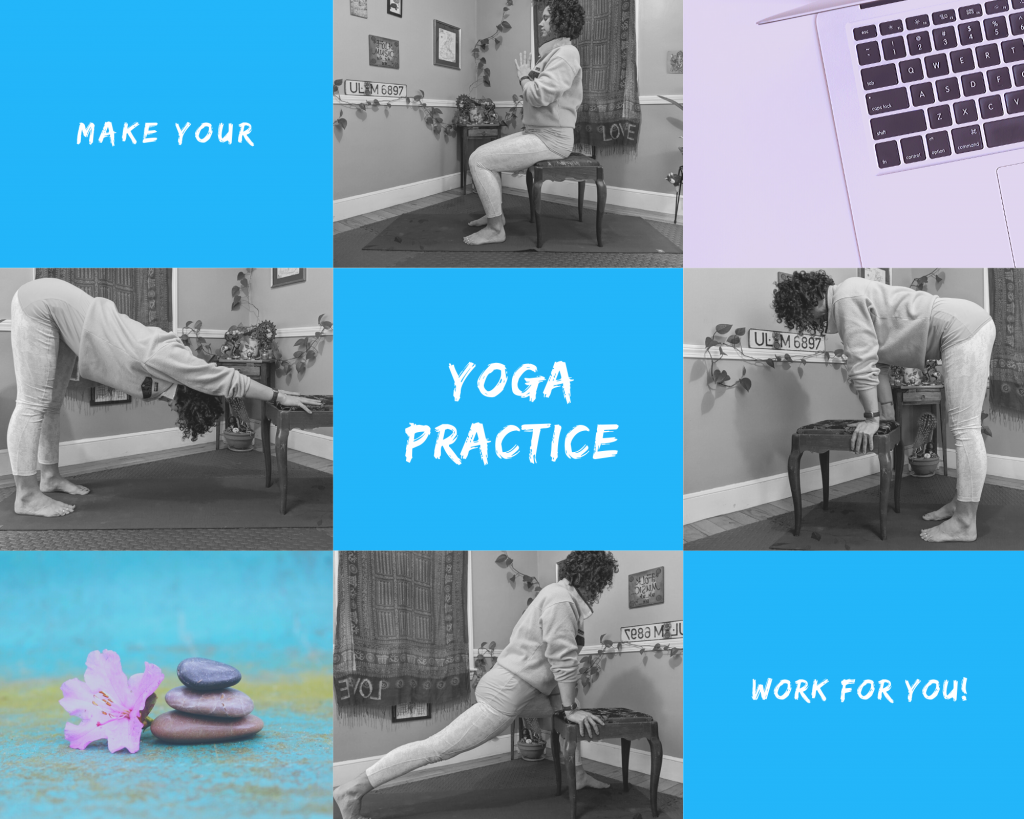 What is an Online Livestream Yoga Class?
An online live stream yoga class is a yoga class taught in realtime over the internet. You can see your teacher and if you turn your video on your teacher and the other students can see you!
What are the Benefits of a Livestream Class Compared to Watching a YouTube Video?
Livestream classes connect you with a community of other yogis.
Just like an in person class there is a sense of responsibility to actually show up on time so you can get set up and connect with your classmates.
If you choose to turn your video on during class, I will be able to offer modifications for your body real-time during class.
How can I make this super easy? I'm not great with technology.
Don't worry! My classes are hosted on Zoom, which is an online meeting platform that is pretty easy to use.
You can download the software ahead of time for your computer, cell phone or tablet at zoom.us.
If you don't set up beforehand don't worry, Zoom will automatically download when you try to join your first class.
I can't hear anything? 
Is your volume all the way up 🙂 If yes then:
For some older devices you you will need to call in from your phone to get the audio that way (you'll get those phone numbers in an email from me before class).
Alternately, click or hover over the screen and look for the little microphone in the bottom left corner. If you click on it there should be an option that says "Join Audio". Here is a little video tutorial that can help.
I paid for my class, but I couldn't get it and now I'm sad 🙁
Don't fret my dears. If you weren't able to make it into class just shoot me an email. I can do some troubleshooting with you and then we will reschedule you for another class!
I am trying to sign up for class and it's not working…
The booking window closes 15 minutes before class starts. That is to give me enough time to get everything set up. Sorry to miss you, but hope to see you in another class 🙂
I usually use borrow props from the studio and I don't have anything at home. What can I use? 
Yoga is about being with yourself and we don't need anything in order to do that. That being said, here are some ways you can adjust to a home practice.
No Yoga Mat: practice on a carpet or right on the floor without socks on.
Tender Knees: have some folded towels to put under your knees.
No Blocks: try stacked books, a stool, or if you are handy just some wood blocks.
No Yoga Strap: try a scarf or belt or tie, etc…
I've never done yoga before…do you think your classes will work for me?
YESSS!! I strive to make all of my classes accessible to all levels of practitioners. If you have never done yoga before you shoot me an email and let me know you are new to the practice. I'll take extra special care to make sure you are feeling good! At it's core yoga is a practice about being present in your body so even if you get confused just be present for that and do the best you can!
Ok, I'm in! Where do I sign up?