Generally, if I am going to have a burger, I go for the grass fed beef variety. I loved being a vegan and a vegetarian, but back in those days I just didn't bother with veggie burgers, because quite frankly, I think they are pretty unappetizing. My mom isn't really into meat these days though and while I was visiting she came up with this amazing veggie burger recipe. It has no meat in it so its a little lighter on the land and all the grains are sprouted. Not cheap, but very healthy and delicious!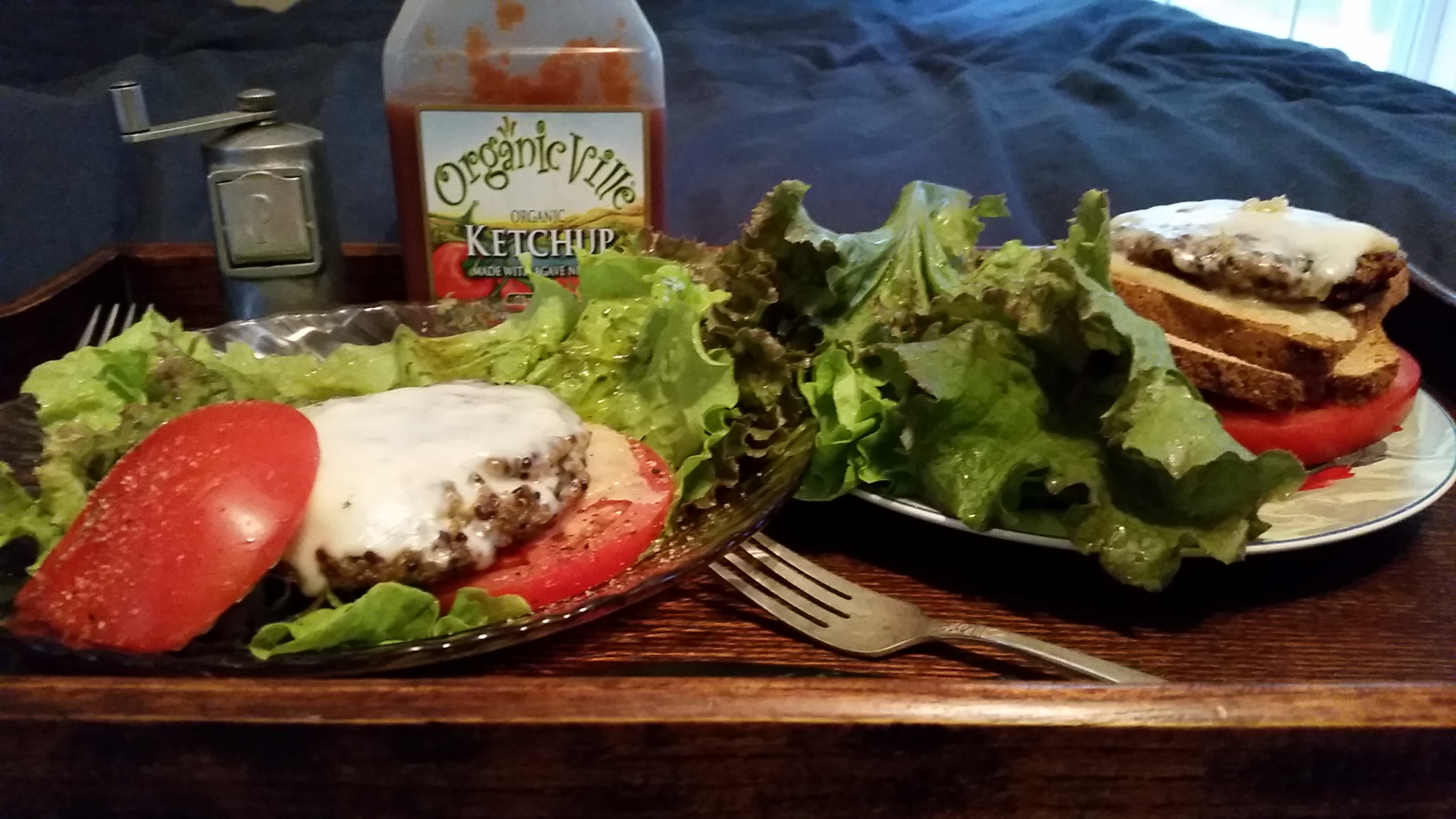 Vegetarian Quinoa Burger Recipe!
1 cup cooked tricolor truroots sprouted quinoa
1 small onion
Handful chopped organic white mushrooms
1 large clove minced garlic
1 1/2 tsp dried oregano
1 large cage free organic egg
1/2 cup hard raw sheep cheese
1/2 cup whole pecans, toasted and finely chopped
1/3 buckwheat flour
1 tablespoon Coconut Aminos
PREPARATION
Preheat oven to 350°F.
Heat olive oil in a large saucepan over medium heat. Add onion and cook, stirring frequently, until soft. Add garlic. Add mushrooms, oregano; cook, stirring, until the mushrooms are tender, about 5 minutes. Let cool for about 5 minutes.
Beat egg in a medium bowl. Add the quinoa, veggie mixture, cheese, pecans, flour and coconut aminos; stir to combine. Wet hand and scoop small handfuls of the batter and form into patties. Place on baking pan.
Bake the burgers until crispy, 15 minutes on each side.
Serve with your favorite burger agarnishes.
TIPS & NOTES
Make Ahead Tip: Individually wrap and freeze cooked burgers for up to 3 months. Defrost overnight in the refrigerator. Reheat in a skillet with a little oil.
For the best flavor, toast nuts before adding to recipes. Spread whole nuts on a baking sheet and bake at 350°F, stirring once, until fragrant, 7 to 9 minutes. For chopped nuts, place in a small dry skillet and cook over medium-low heat, stirring constantly, until fragrant and lightly browned, 2 to 4 minutes.
***Adapted from https://www.eatingwell.com/recipes/quinoa_veggie_burger.html